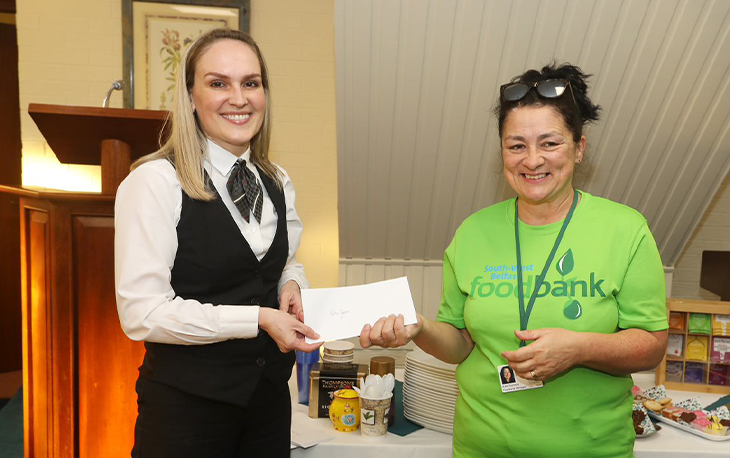 At James Brown & Sons, care and compassion is not reserved for bereaved families, it extends into the community, too.
Funeral Arranger Lisa Hutchinson is spearheading a series of initiatives at the firm's Dunmurry branch to help people all year round.
Since 2016, James Brown and Sons have hosted their own crochet club where people have learned new skills and formed friendships. The branch also hosts Death Café Belfast – part of the global movement.
"Hosting events at a Funeral Directors is unusual and I have no doubt many people might find it rather disconcerting," Lisa said.
"Death is something we tend to avoid thinking and talking about.
"I hope that, by inviting people to attend events in the funeral home, it will help ease fears about death, encourage meaningful and helpful conversations, mend misconceptions and change attitudes towards death, dying and bereavement.
"I pull back the blinds every day, hoping the office is seen as a welcoming place to visit."
Other charitable work has included organising a mindfulness event to help people boost their mental wellbeing, donating artificial flowers to church flower arranging classes and hosting the Big Coffee Break fundraising event for Northern Ireland Hospice which raised £250.
Recently, the James Brown and Sons Community Fund has helped five good causes in the Dunmurry area.
But Lisa doesn't want the relationship to end there. She has already taken the time to visit each of the local beneficiaries to develop these relationships.
So, what drives Lisa to go above and beyond with her community work?
"One of my guiding principles in life is to treat everyone with loving kindness, irrespective of background, beliefs, or circumstances," she explained.
"It is a deep sense of compassion for others that drives me in my work as a Funeral Arranger, as well as supporting the wider community through our diverse initiatives.
"It is my hope that by giving comfort and contentment to others, especially during these challenging times, will make a difference that is far reaching and long-lasting.
"I feel honoured and privileged to look after bereaved families when they need us, but equally fortunate to reach out and support our community throughout each year.
"This work would not be possible without the kind support of James Brown and Sons.
"Their approach to helping others captures the spirit of what meaningful community engagement looks like and I'm proud to be part of the team."