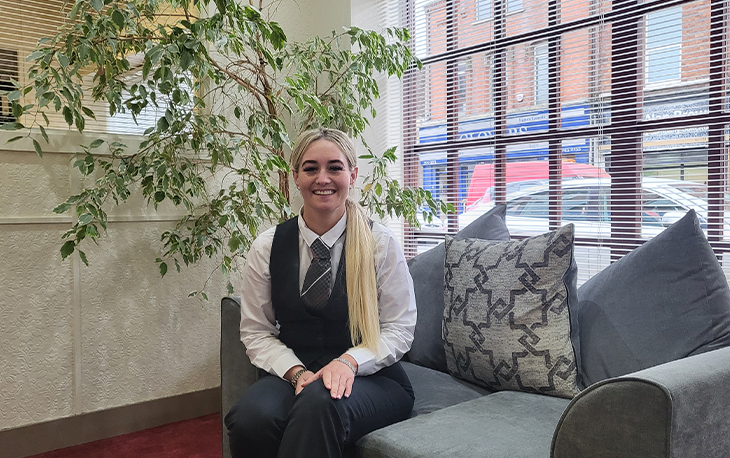 A Funeral Directors which has been serving the community for close to 120 years has taken on its first apprentice in its long and celebrated history.
Chloe Coleman, 22, joined James Brown & Sons Funeral Directors in the summer, and is thriving in her role as Apprentice Receptionist Administrator.
She combines her role at the funeral home on Newtownards Road, Belfast, where she is often the first face visiting families see, with studies provided by apprenticeship provider Inspiro Learning.
Chloe was inspired to apply for the position after seeing a Funeral Arranger talking about her role on TikTok.
"It might sound silly, but I had not expected the work to be so interesting and rewarding," she said.
"So, when I saw the role advertised online, I applied, and from the very first conversation I had about it, it felt right, and I have enjoyed each day since.
"I love being able to help families when they're obviously having a very difficult time.
"People are just so grateful for what we do for them. It's really fulfilling."
Chloe said she would recommend apprenticeships to people who are leaving school and are unsure about what they wanted to do in the future.
"In my opinion, apprenticeships are amazing – they're a brilliant opportunity for people," she said.
"Being here every day means I can learn and earn money at the same time."
Emma Moore, who is Branch Development Manager at Funeral Partners, said: "Having an apprentice is proving a real asset to our team.
"Chloe has brought new ideas and perspective which is really refreshing.
"We felt this was the right time to bring in an apprentice as, traditionally, the profession has sometimes been difficult to enter, and we felt we wanted to nurture someone right through the career paths we have available."